A Partnership that Grows Progress
AgLaunch envisions a transformed regional agriculture and food economy centered around farmers, innovation, and prosperity.
AgLaunch attracts, creates, and grows agtech startups, facilitates the development of new agriculture and food value-chains, and builds collaborative farmer networks, with a commitment to intentional inclusion.
When it comes to innovation and agriculture, our roots run deep. Learn more about the AgLaunch Team and our passion for fostering a diverse array of innovative agricultural solutions.
Pete Nelson
Executive Director
Pete has more than two decades of experience in developing regional ecosystems to support new innovation in agriculture, assisting dozens of companies ranging from agtech to new cropping systems. His work has led to more than $40 million in direct investments in research and commercialization and the establishment of support programs to grow the agricultural industry of the future.
Pete Nelson
Executive Director
Samuel Brown
Chief Operating Officer
Samuel is a chemist and registered U.S. patent attorney who has a broad range of experience in matters involving patents, trade secrets, trademarks and licensing issues. He grew up in rural Arkansas and has a strong interest in the development and commercialization of new agricultural technology. His work experience has included teaching at Tennessee State University and serving in the legal profession at Husch Blackwell.
Samuel Brown
Chief Operating Officer
Connie Bowen
Director, Innovation and Investment
Connie leads key initiatives such as the Data Commons, Farmers Fund, and Open Market Consortium, as well as sits on the leadership team managing AgLaunch's investment strategy and portfolio support. Prior to joining AgLaunch, Bowen worked in Willamette Valley, Oregon with Farmacopia Farms and Chess Ag Full Harvest Partners, assisting in the production, processing, and marketing of hemp, hazelnut, and blueberry products. Prior to that, she co-founded the Yield Lab Institute in St. Louis, and she continues to serve on YLI's board. Before starting the Yield Lab Institute, she served as a Principal for the Yield Lab North America and Cultivation Capital, where she managed accelerator programming, deal flow, and portfolio and aided in firm expansion into Ireland, Argentina, and Singapore. She holds a B.S. in General Engineering, with an emphasis on Environmental Studies, from Swarthmore College.
Connie Bowen
Director, Innovation and Investment
Rebecca Kaufman
Senior Director
Rebecca is dedicated to the Delta region. She has served as the Director of Policy and Research for the Delta Regional Authority, specializing in rural community development and entrepreneurship. As a practicing attorney in Arkansas, she has focused her work on consumer protection. Rebecca also holds a Master's Degree in Public Service from the Clinton School of Public Service in Little Rock and a Bachelor's Degree in Journalism from the University of Mississippi. Rebecca grew up in Fairview, Tennessee.
Rebecca Kaufman
Senior Director
Jade Clark
Director, Community Impact
Jade Clark is a Memphis native who returned home in 2015 to lend her talents and knowledge to the communities she holds close. Her entrée into the agriculture industry was a happy accident. While pursuing pharmacy at the University of Tennessee, she found a passion for food science, and what turned out to be a means to an end became a burgeoning career. Upon finishing at UT, she continued her post-graduate studies, earning an MBA with a concentration in Project Management. After ten years of working for some of the top food companies in the world like Danone, Coca Cola and Nestle, she decided to start a nonprofit, Project Fresh. Project Fresh aims to change youth's perception of food and agriculture while nourishing and strengthening underserved communities. Through Project Fresh and her newly established farm and food consulting firm, Jade is dedicated to her purpose to create an equitable, inclusive local food system for the next generation to eat, grow and learn.
Jade Clark
Director, Community Impact
Margaret Oldham
Director of Entrepreneurship
Margaret forged a career in agriculture with two major agchem companies, an experience sharing marketing company and serves in a business development capacity with AgLaunch.
She has worked with clients to implement marketing strategies in animal health, crop protection and specialty crop segments. She is known as an innovative problem solver with the ability to take an idea from origination to standard operating procedure.
Margaret Oldham
Director of Entrepreneurship
Paul Kennedy
Field Trial Manager
Paul Kennedy is AgLaunch's Field Trial Manager, where he collaborates between farmers in the Farmer Network and Startup companies that come through AgLaunch's AgLaunch365 accelerator program. He assists both parties by writing protocols, proposal agreements, and manages communication between the two. Kennedy also manages AgLaunch's Digital Acre located at Agricenter International. This site is 2.5 acres consisting of corn, soybeans, and cotton which is set up to follow the Cotton Trust Protocol.
Before AgLaunch, he was a Crop Production Specialist II researcher with Helena Agri-Enterprises where he wrote protocols for small plot research in fertility and bio-stimulant products in discovery that were trialed across the US in all types of crops.
Kennedy received a B.S in Plant and Soils from University of Tennessee at Martin and is a Certified Professional Agronomist and recently served as the President of the Tennessee Agricultural Production Association.
Paul Kennedy
Field Trial Manager
Lilly Tench
Entrepreneurial Programs Lead.
Originally from Berea, Kentucky and a Berea College graduate, Lilly spent four years working for an environmental non-profit in New York City before she joined the startup team of New Lab, an innovation hub built in a transformed ship-building facility in the Brooklyn Navy Yard. She then worked with entrepreneurs through a cleantech accelerator based out of the Columbia University Technology Transfer Office.
Lilly has an MBA and MS in Agricultural and Resource Economics from the University of Tennessee, Knoxville.
Lilly Tench
Entrepreneurial Programs Lead.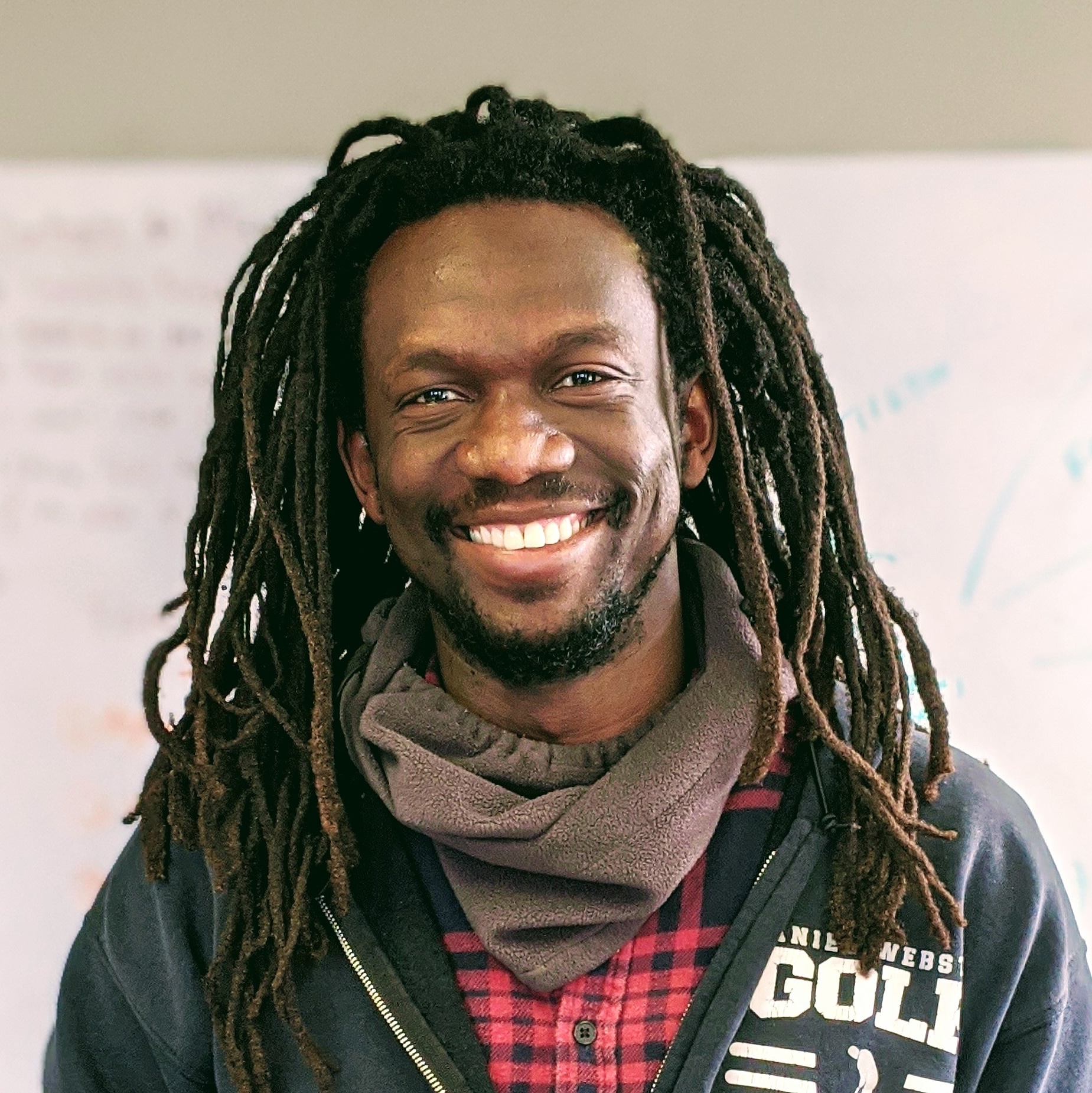 Emmanuel Amido
Video Producer
Emmanuel Amido is a filmmaker with over 15 years of experience in film and video production. A storyteller at heart, Amido has been using filmmaking and visual arts effectively to help clients connect with their customers and establish a brand identity.
Emmanuel Amido
Video Producer
Carolyn Hardy
President/CEO Chism Hardy Investments, LLC Henderson Worldwide Investments, LLC (a/k/a Henderson Transloading Services)
Carolyn Hardy is a graduate of the University of Memphis where she received her BBA and MBA. She is also a certified public accountant (CPA). She gives back to the community through various community organizations including the Methodist Le Bonheur Healthcare board and Philanthropic Black Women of Memphis. She is married to Marino Hardy, and they are the proud parents of Jennifer, Whitney, and Christopher.
Carolyn Hardy
President/CEO Chism Hardy Investments, LLC Henderson Worldwide Investments, LLC (a/k/a Henderson Transloading Services)
Corinne Gould
Assistant Commissioner for Public Affairs Tennessee Department of Agriculture
Corinne Gould serves as Assistant Commissioner for Public Affairs for the Tennessee Department of Agriculture. In that role, she oversees internal and external communications and provides administrative support for media relations, policy development and all agency programs. She also supervises the public relations team and regional staff and administers the Tennessee Agricultural Museum.
Corinne Gould
Assistant Commissioner for Public Affairs Tennessee Department of Agriculture
Andrew R. McCarroll
General Counsel for Southeastern Asset Management, Inc.
Andrew R. McCarroll serves as general counsel for Southeastern Asset Management, Inc. He received a Bachelor of Arts in English and Doctor of Jurisprudence from Vanderbilt. Mr. McCarroll serves on the boards of Memphis University School, The Pyramid Peak Foundation, and The Poplar Foundation, and also volunteers for a number of organizations. He and his wife Anne have two daughters, Josie and Izzie.
Andrew R. McCarroll
General Counsel for Southeastern Asset Management, Inc.
Karen LeVert
CEO of Ag TechInventures (AgTI)
Karen LeVert is CEO of Ag TechInventures (AgTI) and also President of Southeast TechInventures (STI). She co-founded these entities as technology innovation labs focused on further developing promising technologies from universities and spinning them off into the commercial marketplace. AgTI has a sole focus on technology innovation in agriculture. Ms. LeVert's business experience encompasses both corporate and entrepreneurial worlds with over twenty-five years of successful leadership experience in start-ups, technology commercialization, and executive management. She started her career at a Fortune-500 insurance company in positions of increasing responsibility over 14 years from computer programmer, to controller, to general manager of a 500-person Property & Casualty service center. Her first entrepreneurial venture was launching a franchise bioremediation company in 1998 that she later sold in 2001. Before co-founding STI, Karen co-founded a Silicon Valley based software company focused on recruiting in collegiate athletics. Karen holds an MBA from the University of Dayton and an Information Technology undergraduate degree from Eastern Michigan University (EMU). Karen received All-Academic honors while captaining her Division 1 basketball team at EMU. Along with her professional duties she serves as a Board member for the North Carolina Biotechnology Center, Economic Development Partnership of North Carolina, North Carolina School of Science and Math, NC IDEA Foundation, and LCBA Life Insurance company. She also is on the Board of Advisors for The Center of Entrepreneurship and Innovation at The Fuqua School of Business at Duke University.
Karen LeVert
CEO of Ag TechInventures (AgTI)
Rhedona Rose
Executive Vice President Tennessee Farm Bureau
Rose began working at Tennessee Farm Bureau in 1986 and became director of Public Policy and chief lobbyist in 1995. She served in that capacity until she was named executive vice president in December 2010. She will be the first female to lead the Tennessee Farm Bureau Federation.
Rhedona Rose
Executive Vice President Tennessee Farm Bureau
Take your concept to the next level by learning from experienced professionals who have blazed numerous trails with accomplished and successful startups. Learn more about our mentors.
AgLaunch was originally conceived based on recommendation 3.3 in the TN Governors Rural Challenge 10 Year Plan developed through a mandate given by Governor Bill Haslam to the Tennessee Department of Agriculture, the Tennessee Farm Bureau, and the University of Tennessee Institute of Agriculture in 2012. Based on this recommendation a Memorandum of Understanding (MOU) was signed between the Memphis Bioworks Foundation and the Tennessee Department of Agriculture to coordinate the startup and implementation of a statewide initiative focused on creating new companies and innovative approaches for farmers in the state. They were joined by the USDA Rural Development, the Delta Regional Authority, and Economic and Commmunity Development to play vital roles in funding the initial stages of AgLaunch.
Although initially operated through the Tennessee Department of Agriculture and the Memphis Bioworks Foundation, AgLaunch was designed to complement the efforts of Launch Tennessee – a statewide entrepreneurship organization.
Over the last several years, AgLaunch has grown to support multiple companies and initiatives across the state and has expanded its vision to focus on growing regional economies based around agricultural innovation including agritech and new value-chain creation.
AgLaunch was included in the TN Rural Task Force recommendations completed in 2016.
Today, the AgLaunch Initiative, a standalone nonprofit organization, is led by a diverse team and is supported by a broad group of public and private partners. Fully realized, the AgLaunch movement will attract billions in investment, stimulate the creation of hundreds of new companies, create meaningful education and career opportunities, and work to ensure all citizens in the region have access to healthy food.
Agriculture and food can transform the economy and create new opportunities for those who have traditionally made their living in the sector and for new entrants with novel ideas. Technologies that can quickly and reliably help farmers make solid decisions – using less water, less land, and few inputs – are vital to the future of farm and food sustainability.
AgLaunch is focused on making Tennessee and the surrounding region a globally recognized place for starting and growing innovative agricultural initiatives to solve global problems & create local opportunities. This is a transformational vision which will require significant public and private investment over the next decade.
AgLaunch believes that Tennessee and the surrounding region is emerging as a new model of how to create new opportunities for farmers, alleviate poverty, stimulate new minority businesses, improve soil health, and scale new food systems through reimagining the food and ag sector which already has over 66,000 farmers and 1,000 companies but lacks an innovation ecosystem, connectivity, and imagination.